Mumbai Maska: Serving up the Best Dosa and Idli Sambar in London
With so many Indian Restaurants in London to choose from and many naming themselves as the 'Best Indian restaurant in London', this blog will save you the time and trouble of searching, clicking and browsing through reviews to see if any actually are.
An Introduction to Mumbai Maska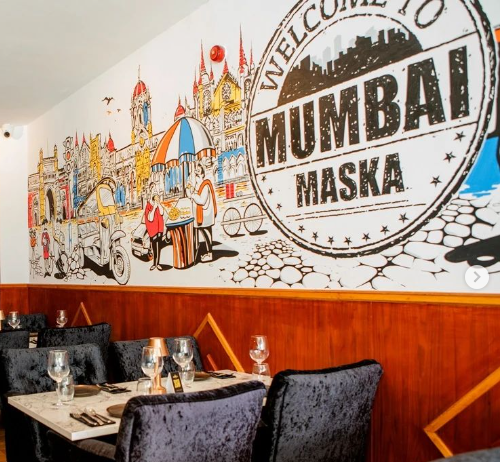 Situated in Chingford, London, Mumbai Maska is the Indian restaurant that everyone is talking about. From their dribble-worthy food photography on their Instagram, to their incredible mural of the owner's home city of Mumbai, to the chef that is Michelin Star trained!
The family who both own and run Mumbai Maska moved from their Motherland of India with the passion and determination to offer London a taste of the real Mumbai. The family recipes the chefs use are as authentic as they are traditional and each dish is not complete until you've been served a cup of hot, freshly brewed chai.
Mumbai Maska's Unbelievably Talented Chef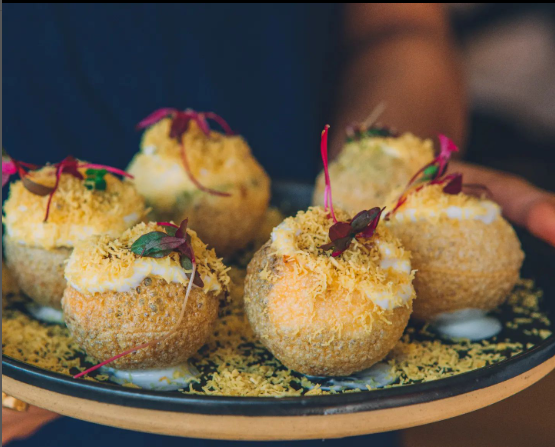 Speaking of the chef, he is Michelin Star trained but does not like
to brag about it (in fact you ask this humble man about it, he'll become very shy!). Having seen the chef in action myself, it's easy to tell that immense work and creativity has gone into each flavour of any dish.
The aromatic spices that are used in each tasty dish are grown and delivered direct from farms in India. Only the best hand picked meats and fresh vegetables are also used which alone is a reason to make Mumbai Maska one of the best Indian restaurants in London!
The Chefs expert knowledge of regional Indian cuisine is vast and insightful and each of the delicious dishes are masterfully presented with the vibrant colours of Mumbai in mind.
Really, They do the Best Dosa and Idli Sambar in London
If you're from Indian heritage or have visited India, you may be rolling your eyes at the sentence above. But trust me, these dishes are just like home and the Dosa and Idli Sambar are identical (if not better) to what you've been missing while in London.
The Incredible World of Dosas
If you're unfamiliar with what Dosas are or perhaps you've landed on this page in a 3am browsing hole, you're about to find out what this incredibly delicious South Indian food is.
Dosa is an iconically popular street food in South India that has been around since the 5th century AD. It is similar to a crepe and is made with simple ingredients like rice, lentils and water.
The dough is fermented overnight and then cooked on a traditional Indian hot griddle (Tawa). It is usually served with chutney and the accompanying sambar (a type of soup) is incredibly tasty! After being fried on a traditional hot tawa, dosa has a lovely crisp texture on the outside which is has wonderful depth and flavour.
Delicious dosa makes for a great snack or breakfast food and can be eaten anytime you're in the mood!
It is also a very healthy food because it is high in protein and low in fat. If you love Indian food, then you should definitely try Dosa!
You'll find them being served at almost all Indian restaurants in London but Mumbai Maska has really nailed the traditional taste and textures of the humble South Indian dosa. You can also choose between fresh vegetables with an aromatic array of spices or succulent meat pieces.
If you do fancy trying one for breakfast, Mumbai Maska has now included them on their new breakfast menu.
They're hot, fresh and delicious and the low prices at Mumbai Maska means it is also great value for money!
So if you're looking to expand your cultural horizons, head to Mumbai Maska for some real, honest Indian food!
Definitely Ordering Delicious Dosa for My Next Visit but what About Idli Sambar?
Well, we're glad you asked.
Idli sambar is a delicious and nutritious recipe that is loved by foodies all over the world. This amazing dish is native to South India, where it is served as a street food as well as in high-end restaurants.
The Idli Part
These small, round dumplings are made from rice and lentils. Idlis are typically cooked in a steamer, which gives them their unique texture – soft and fluffy on the inside, with a slightly firm exterior.
They are typically served with vibrant toppings and delicious fillings alongside tasty chutney or sambar. Idli is also a popular breakfast, lunch or snack food.
In addition to being delicious, idli is also healthy and nutritious. Due to its high protein and fibre content, idli can help regulate digestion and promote weight loss.
Idli is also relatively low in calories, making it a good choice for those looking to maintain a healthy weight. Whether you enjoy idli at home or order it from a restaurant, it is sure to be a satisfying and enjoyable meal.
Got it! Now how about the Sambar?
When you go to an Indian restaurant, sambar is usually one of the first things on the menu. But what is sambar? Sambar is a South Indian soup dish that is made with vegetables and lentils.
It is usually served with rice or idli, and it has a strong, distinct flavour.
Sambar is usually made with tamarind, which gives it a sour taste. And if you're not used to eating sambar, the first time you try it, you might be pleasantly surprised by how good it tastes!
So next time you're in an Indian restaurant menu, don't be afraid to order sambar. It's a great way to experience the unique and traditional flavours of India.
Is it Healthy?
Sambar is a tasty Indian food that is healthy and filling. It is typically made with lentils, vegetables, and spices, and can be served with idli, rice or bread.
It is a great option for lunch or dinner, and can be easily found on the high street at almost any Indian restaurant in London.
Sambar is a great source of protein, fibre, and vitamins, and is low in fat and calories. It is also packed with antioxidants and has anti-inflammatory properties.
So if you're looking for a healthy, hearty meal, sambar is a great choice!
Mumbai Maska's Breakfast Menu
If you're already planning tomorrow's tempting breakfast at Mumbai Maska, we're right there with you!
Along with delicious dosas and incredible idli sambar, you'll also find other absolute breakfast gems such as uttapam, bombay sandwiches, keema pav and of course, chai!
There's also western-style pancakes with Nutella if you're not ready to jump head first into the Mumbai pond!
Uttapam, I hear you say?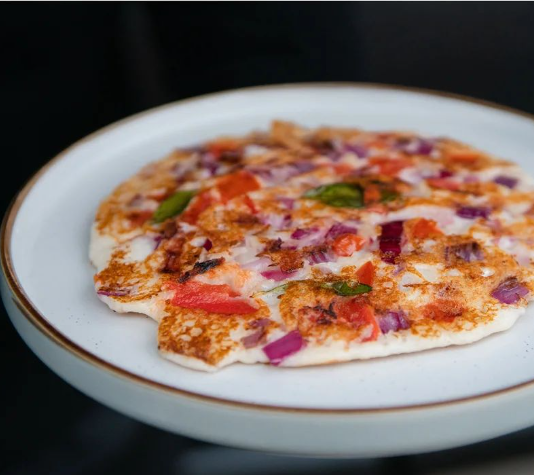 Uttapam is a south Indian dish that is often served for breakfast or lunch. It typically consists of a pancake-like base made from rice and lentil flour, topped with vegetables like tomatoes, onions, and green peppers.
Uttapam can be enjoyed plain, or it can be topped with a variety of sauces or chutneys. It is often said that uttapam is the Indian answer to pizza, as it can be customized to suit any taste and is commonly colourful and busy like the Bombay bustle.
If you're in the mood for something different, why not try uttapam? You can find it on the menu at Mumbai Maska (if you want to book a table for one and order a mountain of uttapam, there's no judgement from us) or you can even order it online from the Mumbai Maska website. Just don't forget to wear roomy trousers as you won't be able to stop at just one!
Is it New? Uttapam Sounds New.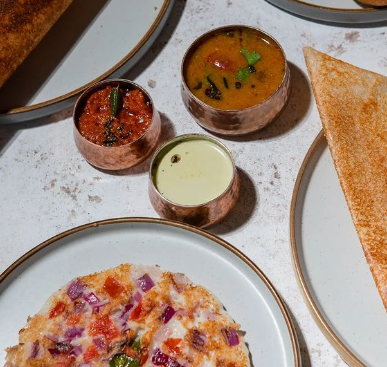 The word "uttapam" means "flat" in Tamil, and it is thought to be derived from the Sanskrit word "uttama," which means "best."
The first written record of uttapam comes from the 9th century CE, when it was mentioned in the Kannada work Vaddaradhane by Shantaladevi.
Uttapam has been traditionally made in tawa pans, but it can also be made in a microwave or on a griddle (though there are no popty-pings at Mumbai Maska, just fresh, tasty uttapam!).
It is a very versatile dish, and there are many different ways to make it. Whether you like your uttapam crisp or soft, plain or topped with vegetables, it is sure to be a delicious and amazing experience so be sure to give it a try from their new breakfast menu! It's not common to find Indian restaurants in London that serve these, so get them at Mumbai Maska while you can!
Okay, Now hit me with The Bombay Sandwich!
Here's one for Instagram snappers – The Bombay Sandwich
A Bombay sandwich is a crisp, cooked sandwich that is amazingly tasty. It is made with freshly baked white bread and filled with a variety of delicious Indian spices, vegetables, and chutneys.
The sandwich is then grilled to perfection, making it crisp on the outside and fluffy on the inside.
Bombay sandwiches are a popular street food in India, and they are now becoming popular in London too. If you are looking for an amazing new sandwich to try, be sure to check out a Bombay sandwich!
Tell me about Keema Pav
I love Indian food. I love the dishes, the flavours, the way it is cooked. It is amazing. Keema Pav is a dish made with ground meat (usually lamb or beef), onions, tomatoes, and spices. Pav is a type of Indian bread roll that is fluffy and beyond delicious, especially when just freshly baked!
If you haven't tried it, you should definitely give it a go. The only downside is if you're a vegetarian as it is made using meat. At Mumbai Maska they're happy to amend dishes to make them more suitable for you and the chef will welcome the creative challenge. Try this for your next breakfast, you will not be disappointed!
I'd Love to know more about Chai!
Masala chai is a beautifully fragrant spiced tea that has a wonderful depth of flavours. This creamy, hot beverage originates from the Indian subcontinent.
The word 'masala' simply means 'mixture', and refers to the blend of spices that are used to make the tea. Common spices include cardamom, cloves, cinnamon and ginger, although there are many regional variations.
Masala chai is usually made with black tea, milk and sugar, resulting in a rich and creamy beverage.
It's often served alongside traditional Indian foods such as dosa, idli and curries, but can also be enjoyed on its own.
In India, masala chai is often found on the high street, roadside, or in small cafes called 'chai wallahs'. It's a popular drink amongst office workers and students, providing a welcome break from the hustle and bustle of city life.
For many Indians, masala chai is more than just a drink – it's a way of life.
What Makes Mumbai Maska one of the Best Indian Restaurants in London?
Mumbai Maska is a traditional Indian restaurant based along the high street in Chingford, which is just North East of Central London. The friendly staff always provide excellent service and are worth a visit by themselves!
Exceptional Service
You can expect amazing service with a welcoming smile every time you visit and no query is too big. I've even seen a lovely lady organising an event to be held there who was worried that one of the guests will only eat fried chicken. One quick check with the chef and she got the 'no problem'!
The Incredibly Talented Chef
Even though their head chef is Michelin Star trained, you would never know looking at the prices on the menu, you wouldn't even know you were in London! The food is exceptionally presented and incredibly tasty which is outstandingly amazing value for money! (I mean, how often can you treat the family to a Michelin Star evening?!)
Every single dish on the menu is social media ready as they are composed so beautifully and the colours are so vibrant that you can see the passion form the chef shining through.
The chef has a way with herbs and spices that makes any Indian food taste like you're trying Indian cuisine for the first time! In one taste, you're transported from central London, straight to the Bombay bustle!
Not many restaurants can say that each dish is prepared and cooked as the order's come in so there's no reheating or using yesterday's sauces, but Mumbai Maska can! The chefs pride themselves on only using the finest and freshest ingredients, including using fragrant Indian spices that are farmed in India.
You can always expect great food at great value from Mumbai Maska and their vast menu full of delicious Indian dishes will have you coming back to try something new!
Whether you're in the mood for some delicious dosas, aromatic curries or just want to eat some amazing pav bhaji during your lunch break, you can expect Mumbai Maska to always welcome you for your visit!
Hiring A Space and Catering for Your Next Event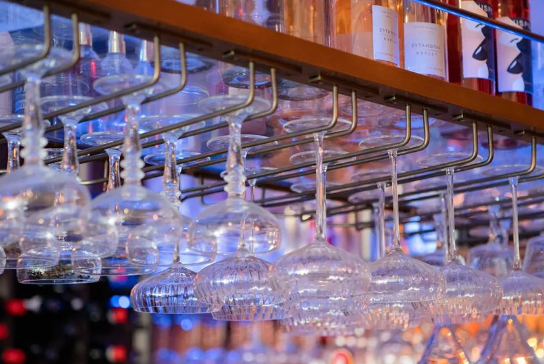 Not only can you enjoy the incredibly tasty Indian food served at Mumbai Maska, you can also book more than one table for big events at the restaurant!
They have a dedicated seating area in the restaurant for those wishing to host an amazing event at Mumbai Maska. They're happy to cater for parties, business events or just social gatherings.
The service will be impeccable and the staff are very experienced with serving up great food at all types of events including business meetings and social events.
If you have somewhere in the city in mind that you'd like to hold your next event, Mumbai Maska can visit to cater for it!
Indian food is an incredibly social cuisine as most people love Indian food and want to try a bit of all the different curries, dosas, tandoor and all the other tasty Indian dishes!
For those who have dietary requirements, the staff are always happy to make amendments so everyone can enjoy a taste of Mumbai.
Give our friendly team a call to book your next event and we'll have your table ready!
Dining at Mumbai Maska
Mumbai Maska is a South Indian restaurant in east London that is has a beautiful mural alongside the wall by the entrance. The mural depicts all the major landmarks from the city of Mumbai and is a popular backdrop for business meetings and date nights.
The restaurant offers good service with a wide variety of authentic Indian food, including delicious curries, tasty tandoori dishes, and freshly baked Indian breads.
Dining with friends at Mumbai Maska is an experience not to be missed. The food is delicious, the staff are amazing and the atmosphere is electric. If you're looking for a truly unique dining experience, East London is the place to be.
Mumbai Maska stands out from other Indian restaurants for its good service, keen prices gorgeous dining room and great food.
This South Indian restaurant definitely delivers on its promise of providing a beautiful and memorable dining experience from both the food and the atmosphere.
Be sure to visit Mumbai Maska, you won't regret it!
Ordering Online and Takeaway Services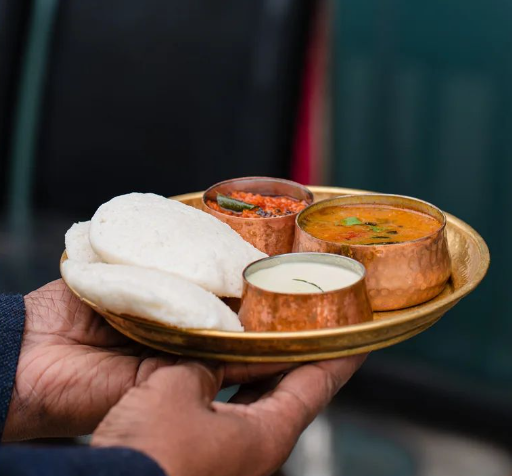 If you're in a pinch for time or picking up your ill partner's medicine (Medicine = incredible Indian food that you can only find at Mumbai Maska), Mumbai Maska now offers convenient delivery and takeaway services!
Give them a call to place your order for collection or delivery or order online from their website.
Mumbai Maska: Why Mumbai Is So Close To Their Hearts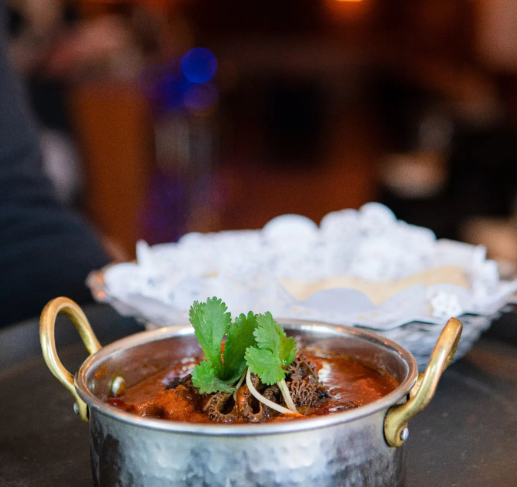 Mumbai is a city of contrasts. From the moment you step out of your air-conditioned car, you're hit with the sights, smells and sounds of India. It's a sensory overload in the best possible way.
It's a bustling metropolis where you can find all the conveniences of modern life, as well as some of the best street food in the world.
And if you're looking for a truly unique experience, be sure to try the local favourite, vada pav. This brightly decorated fried potato patty served in a soft bun is sure to leave you wanting more.
Mumbai is also home to some of India's most iconic landmarks, from the Gateway of India to the Taj Mahal Hotel.
And then there's the South Indian food. Mumbai is home to some of the best Indian food you'll ever taste. From street food to fine dining, there's something to suit every taste.
But what's loved most about Mumbai is its people. They're warm and welcoming, and they have a great sense of humour. Everyone is made to feel like they're part of a family when they visit, and that's what the owners wanted to share with London. A sense of community sharing incredible food!
So if you'd like an authentic taste of Mumbai, vada pav especially, head to Mumbai Maska and join the India club!
Where To Find Mumbai Maska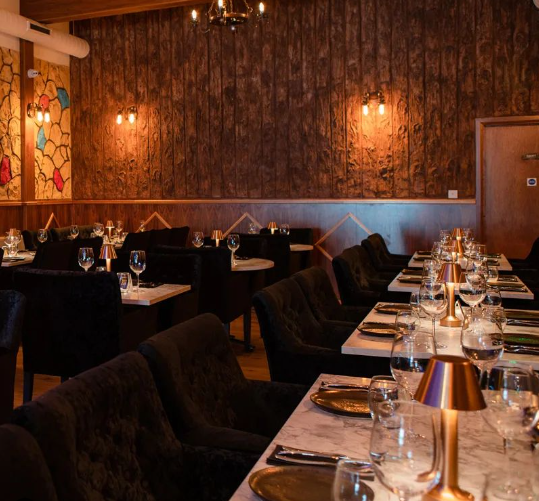 It's located on Chingford High Street, East London and it's not too far from Central London and is accessible by London Overground and Underground.
Mumbai Maska: Speciality Menus
Mumbai Maska has a number of exclusive menus that'll tantalise your taste buds! There's one for whatever mood you're in and for whatever time of day it is.
They're one of the first Indian restaurants to offer a breakfast menu where you can find all the traditional Indian breakfast foods such as dosas, uttapam, idli and (less traditional) pancakes with Nutella!
For lunch they have an exciting set menu to with different choices depending on whether you're a meat eater or vegetarian. This menu includes a choice of starters, mains and a dessert and each lunch includes a freshly brewed cup of chai.
They also have lots of tasty options for vegans, vegetarians, gluten-free, pescatarians and meat eaters.